Tulsa Real Estate Cleaning Near Me
House sale or rent? With DomesticAide of Tulsa, you can have your properties cleaned quickly and efficiently. We work around the specifications of potential clients for a cleaner home!
Have us do this one task so that it's easier on you in between handling other tasks like paperwork; we're here 24/7 to serve all needs at any time – even special requests! We get homes back into shape fast without worrying about what else might need attention before then selling them off again later down the road.
In addition, if you are flipping an apartment, you can have it look like new with the help of our cleaning staff. We provide a full service, from scrubbing and steaming to vacuuming or rinsing off dishes in your kitchen sink—we do it all!
If you need other services done on getting rid of dirt stains around baseboards for example just give us a call so that a quote can be given accordingly by one professional team who knows what they are doing at every step along the process.
The key to a successful sale is presentation. If your home needs some attention, we can help give it the polish that will make all those detail-oriented buyers swoon!
We offer one-time professional cleanings for people who are looking into selling their property or just want things cleaned up before an agent comes over – plus deep cleans if you have large areas like whole houses whose surfaces need scrubbing down hard (and quite loudly too!).
A clean environment shows potential clients how proud homeowners feel about living there; they'll appreciate seeing dust bunnies gone forever then.
Services Available To You:
Residential Cleaning
Commercial Cleaning
A La Carte Cleaning
Real Estate Cleaning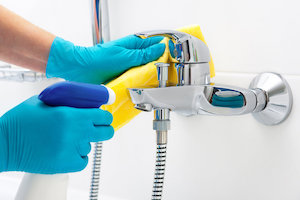 Tulsa Cleaning Experts
Your home is the most important thing in life, and it should be treated as such. When you are selling or trying to stage your property for an open sale with buyers who will potentially make offers on what they see; let our professional cleaners help give that place some extra shine by deep-cleaning every corner even those tiny hidden areas so everything shines!
The last thing you want is for potential buyers to be distracted by dirt and dust. We can come in after construction has been completed, or even before if necessary! With our professional team of cleaners, we'll make sure everything looks as good on the outside (and inside) again so that every aspect runs smoothly from start to finish.
DomesticAide of Tulsa is a solution for all of your cleaning needs, no matter how big or small. We can help you with the special requirements that may come up to get properties on the market fast! With our high-quality service and professional team members waiting – 24/7 just itching at their chance – don't hesitate another minute before calling us today!