Residential Cleaner
Broken Arrow, OK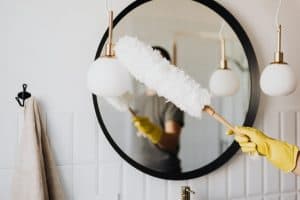 DomesticAide cleaning services has been in business and serving customers for over 36 years. We offer the best residential cleaning service in Broken Arrow, because to us, it's about more than just cleaning. Although cleaning is our job, we take pride in our relationships and getting to know our customers. It's crucial to us that we have a deeper relationship with our clients because that way we are able to better serve you, and that is what sets us apart.
This approach is one that not many other companies take but we know and have experienced the benefits first hand the benefits of putting our clients first in every aspect. A clean home is a happy home and our goal is to provide you with a clean, happy and healthy home to each and every client. This mindset not only makes us the best around but it enables us to change lives through our company.
That is why we are the founding member and only official Tulsa member of Cleaning for a Reason, a non profit organization serving both the United State and Canada that offers free house cleaning to any woman undergoing cancer treatments. At DomesticAide we're the best not just at what we do but how we do things.
Services We Offer
At DomesticAide, cleaning is our specialty, but simplifying your life is our mission. Regardless of the task that you need done, we pride ourselves on being able to tackle any job and ensure that we will simplify your daily life by doing so. Along with our residential, commercial and real estate cleaning we offer multiple A La Carte services that can be paired with a cleaning service or all on their own. Whatever you need, we can do it, even if it's not on the list! Here's some services we offer:
Refrigerator Cleaning

Freezer Cleaning

Oven Cleaning

Straightening

Polish Silver

Interior Window Washing

Furniture Vacuum

Woodwork Washed

Fireplace Cleaning

Sliding Glass Door

Porch Sweeping

Special Projects
Contact Us
Phone Number
918-622-7475
Why We are the Best
Since 1986 we have been providing our community with high quality service, tailored to their budget. At DomesticAide, it is our top priority to provide only the highest standard of cleanliness and customer service to our clients.
We take pride in being the best and our ability to transform the environment of your home with just a simple clean. Our goal is to create a cleaner and healthier home for every person. We take our job seriously, from the beginning to the end and everything in between. To be the best, it takes the best. That is why each of our employees is screened, trained and extensively prepared to provide only the best services on every project. And in case that isn't enough, our Quality Assurance Managers make unannounced visits to inspect and approve job sites to ensure that everything is done to the DomesticAide Standard.
It is important to us that we follow through with our promises and with this model, we are able to promise that each project is done with the utmost integrity and to the best of our ability. That is how we have been the best for 36 years and counting.